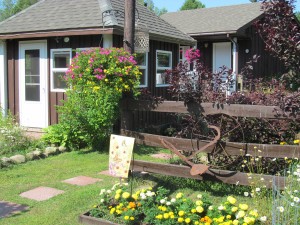 The Fruits of our Labor
Demand for lodging in our area was the inspiration behind The Guest House. Although it was constructed using new materials, it was designed to look like a country cabin. Located behind the main house, The Guest House provides you with the tranquility and privacy you're looking for. This 20×20 building may look small, but it provides you with all the room you'll need to relax and unwind.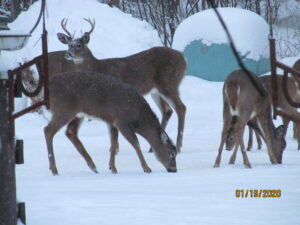 The view from The Guest House porch doesn't get more breathtaking than this! Imagine yourself having coffee in the morning surrounded by nature's finest. You can even help with the chores if you want to!
Relaxing in Comfort
The Guest House offers a variety of areas where you can curl up with a book, unwind with a glass of wine, visit with friends or just take a siesta. The gazebo and surrounding pergolas offer shade from the hot sun and provide a calming atmosphere.
Still Under Construction
There are many new items planned for The Guest House, but unfortunately nature has to run its course and our construction comes to an abrupt halt. However, our winter months are not idle we are busy planning and preparing for the spring thaw.
ADDITIONAL GROUND'S PHOTOS

Our courtyard is in bloom all summer long.
From perennials to annuals, you'll find them here in our gardens.