$700 WEEKLY- taxes not included (4 people max.)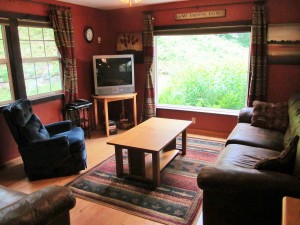 $250 Weekend-Weekdays Getaway -2 night minimum, taxes not included
Sorry, no pets allowed.
The Guest Cottage is a summer/fall rental cottage fully equipped with all the modern conveniences. Located in Russell on the Grass River,
the Guest Cottage provides couples and/or families with the perfect vacation getaway.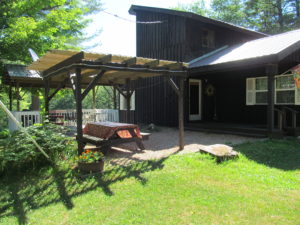 Th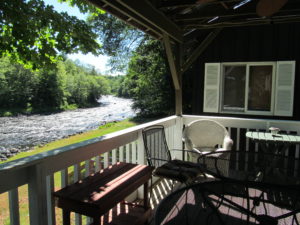 e interior of the cottage speaks for itself. Finished in pine, this cottage says nothing but the outdoors. The kitchen, living room, sun room and bathroom occupy the first floor, while two cozy bedrooms can be found on the second floor. The cottage is fully furnished with everything you'll need for cooking, sleeping and relaxing. Your only worry, the "groceries"!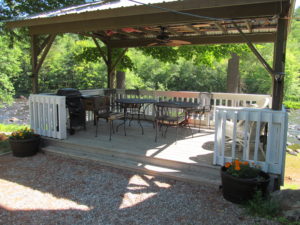 * Check in time is 3 PM. (These times are flexible if possible.)
* Check out time is 12 (noon)
Please Note: Master Bedrooms are upstairs
* Smoking in the cottage is prohibited.
*
"Reasonable"

alcohol consumption is permitted on the premises.
*
Large parties/gatherings are not permitted

.
* The Guest Cottage is designed for one group at a time, and can accommodate 4 people. The cottage contains 1 queen size bed, 1 full size bed, and 1 twin bed. Bedrooms are located upstairs.
* Guests are expected to leave the cottage and surrounding area reasonably clean. Guests will be expected to clean their dishes and put everything away. Linens, towels, and basic cleaning will be done by management.
*
"SMALL"

fires are allowed in the outdoor fireplace.

"NEVER"

leave the fire unattended!!!

Please make sure a fire ban has not been issued during a dry spell.
* Trash cans will be provided for garbage, please use them. Weekly guests can expect to have their trash collected once during their stay to prevent odors and critters. The remaining trash will be collected at the end of your stay.
* Due to the location and construction of the cottage, it is not suitable for small children. If your party or guests has small children, please keep an eye on them at all times!
* Cell Phone service available, no internet
* The river is shallow and not suitable for boats. However, it is great for wading, and all kinds of fishing. It also provides a great deal of wildlife for viewing.
COTTAGE AMENITES
Fresh towels, blankets, pillows and bed linens
Cooking and eating utensils (pots and pans, plates, silverware etc…)
Basic cooking needs (spices, flour, sugar etc…)
Toaster, coffee maker, stove, refrigerator, microwave
TV with Dish Network and DVD player
Ceiling fans in bedrooms – monitor heating system
Picnic Pavilion
Outside chairs, tables and picnic table
Gas BBQ Grill (upon request)
bathroom starter supplies
Drilled Well