Welcome to The Guest House
      THE GUEST HOUSE B&B
(Reservations Required – white368@tds.net)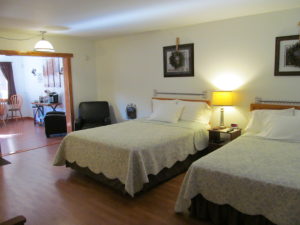 "Once you've stayed with us, you won't stay anywhere else."
"We offer a charming Guest House like no other. It's private, spacious and only 15 minutes from Canton."
Private Guest House B&B w/ Kitchen & Bath: $80 per night. 

368 Dana Hill Road
Russell, New York 13684
315-562-3742
Hosts:
Marcia & Ronnie White
The Guest House offers spacious accommodations with: full kitchen, air-conditioning, private bath, wireless Internet and continental breakfast! (3 person max.)
Nestled in the foothills of the Adirondacks, The Guest House is the place to stay if you're looking to relax and enjoy yourself in a cozy, Adirondack style atmosphere. Separate from the main house, The Guest House provides you with your own private quarters to come and go as you please. It also provides you with the comforts of your own private shower, refrigerator, microwave, coffee maker, wireless Internet and satellite T.V. Whether you're on vacation, business, visiting friends, or children in college, The Guest House is the place to stay. The Guest House is located 20 minutes from SUNY Canton and St. Lawrence University, and 30 minutes from SUNY Potsdam and Clarkson University. Make your next stay in our area a memorable one, stay at The Guest House.
Sorry, Absolutely No Pets at The Guest House B&B or Cottage 
Sorry , not accepting credit cards at this time.
Cash, Personal Checks, or Travelers Checks Only
_________________________________________________________________________________
VACATION COTTAGE ON THE WATER – Located 5 miles from The Guest House B&B and 10 minutes from Canton
                                   (Call for Availability!)
Available for Orientation, Parents' Weekends and Graduation at $125 Per Night; two night minimum.
(Tax not included)
COTTAGE RENTAL RATES
$700 Summer Weekly Rate (4 people maximum)
$125 Daily Rate – Two Night Minimum (Beginning May 1st- 4 people max.)
(Taxes not included in above rates)
Absolutely No Pets
The Guest Cottage provides coffee, tea, and a fully equipped kitchen.
See our cottage rental page for more details!
NEW KITCHEN!